September 15, 2010 3:22 PM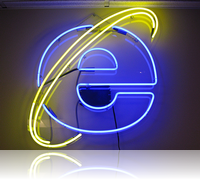 The Beta of Internet Explorer 9 was released today. I'm usually not excited by IE, but man, anything that stands a chance of knocking IE6 further down the road is a good thing in my book.
Ars Technica has a great article covering IE9, so I wont go into specifics, but I will say that while Microsoft's done some typically stupid things (the UI... yuck), it is a very compliant browser, and hopefully will let us really move forward with HTML5 and some advanced styling. Look for some post from me about what kind of CSS tricks we can hopefully treat as standard now that IE is "back in the game".