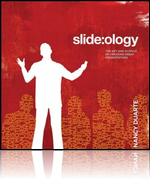 I've fallen in love with Slide:ology by Nancy Duarte. This book covers just about everything you could want to know about how to design effective slide based presentations. If you have delivered a presentation or ever will deliver one, this book is for you. Whats even better is that even if you'll never deliver a presentation in your life, then this book might still be for you.
While focused on presentations, the concepts and insights in Slide:ology are very easily ported to the world of web design: make your point as clearly and simply as possible; images can speak louder then words; colors, fonts, images, everything contributes to the messages you are conveying to your audience.
Daurte also backs up the guidelines with tons of examples, both in terms of visual ideas to inspire you and in real-world examples of individuals who have employed specific techniques to deliver their message. Give it a spin and see what the world of Power Point can offer web designers.